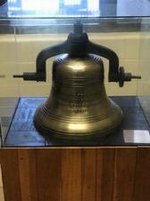 On July 1, 2018, Pike Road Schools purchased Georgia Washington Junior High School for their high school campus. The school was started by emancipated slave and visionary Georgia Washington in 1893. Public's Village School began as a 12-foot-by-13-foot cabin, in the Mt. Meigs community with four boys in attendance. In February 1894, the residents bought a plot of land and built an 18-foot-by-36-foot schoolhouse. When Georgia Washington died in 1952, the school was named in her memory. In 1974, Montgomery Public Schools converted Georgia Washington High School into a middle school. The school has served thousands of young men and women in this community for decades.
The first timepiece for the Mt. Meigs community, a brass bell, is housed in the hallways of PRHS. The bell is a reminder of the sacrifices and accomplishments of one brave woman for the purpose of education. PRHS looks forward to carrying on the great legacy of learning and establishing many incredible traditions throughout the years. Our daily mission is to create a culture of intellectual curiosity where all students have ownership over their learning and are inspired to
Think, Innovate, and Create.