Senior Parking Spot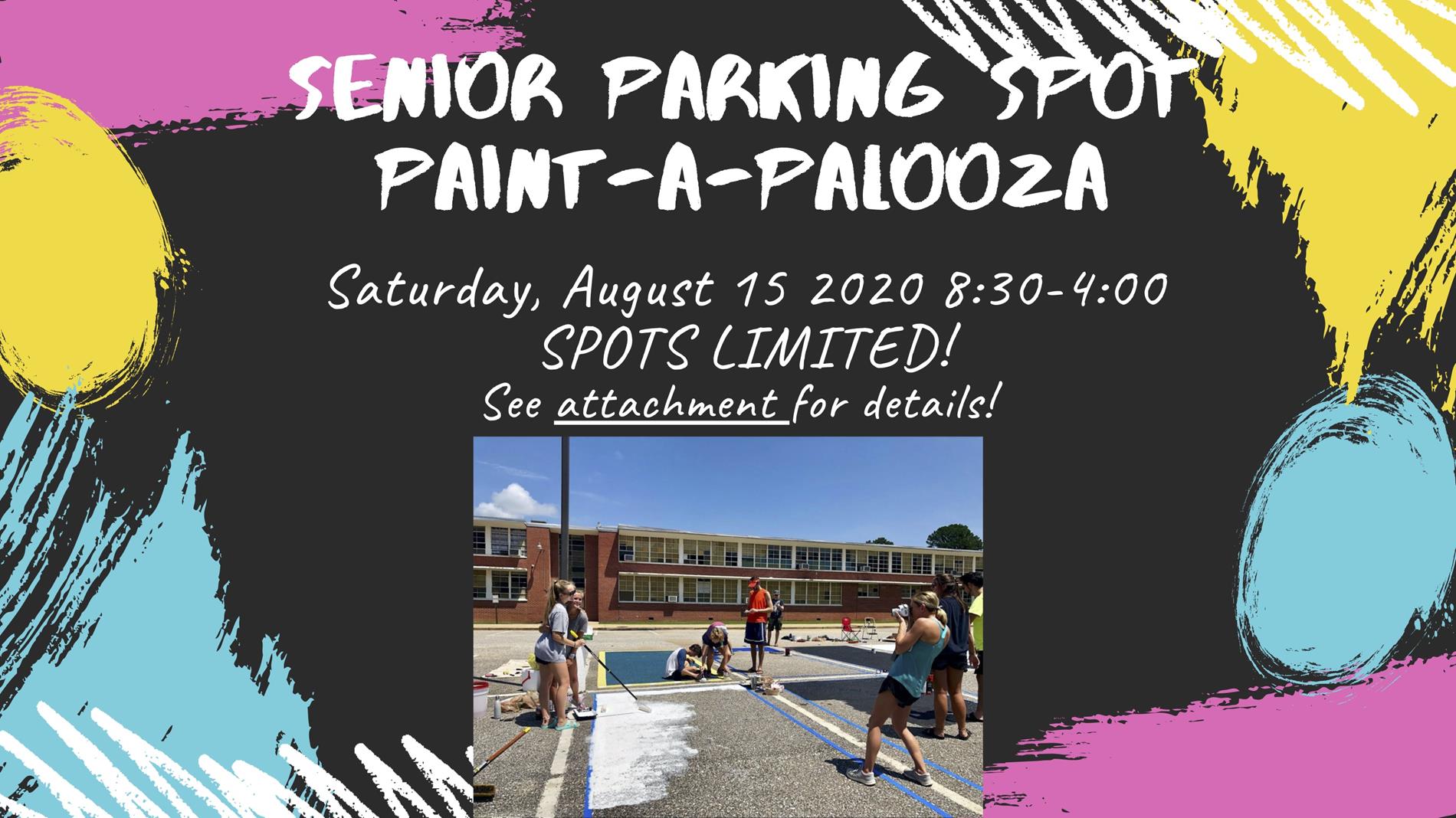 ---
Senior Parking Spot Painting
Seniors ONLY
Senior Parking Flyer
How Much? $75-includes reserved parking place & parking permit


The Process:
*Please note: allotted parking spots will be sold on a first-come, first-serve basis*


➔ Step 1: Purchase a parking permit from Mrs. Stallworth in the bookkeeper's office on August 10th from 8:30-11:00 am/1:00-3:00 pm or August 11th from 8:30-11:00 am/1:00-3:00 pm


◆ What you need:
● $75.00 Payment can be made by check, cash or swipe card
● The completed vehicle authorization form (see attached)
● A COPY of your driver's license
● A COPY of your insurance card
● A COPY of your vehicle registration form ◆ IMPORTANT-Your name must be on the insurance card ◆ We will NOT be able to make copies for you
●YOUR PARKING SPOT DESIGN FOR APPROVAL


➔ Step 2: Choose a parking spot to reserve for painting


◆ What you need:
● A signed copy of the Reserved Painted Parking Space Contract (attached)
● A copy of the design for your parking spot MUST be drawn, in color, on the attached form; we will keep this, so make a copy for yourself. Designs must be approved by PRHS administration & Mrs. Griswell. Once reviewed, you will receive an email letting you know if your design has been accepted or if any changes need to be made.
● The design may not exceed the parking space outline, and it must be school appropriate and follow the below guidelines.
● You must follow the approved design EXACTLY on painting day-NO CHANGES ALLOWED ➔ MANDATORY PAINT OPTIONS: Paint can only be water-based exterior latex; no spray, reflective or fluorescent permitted):
● You will provide your own paint (Consider sharing with others).
➔ Prohibited: ◆ No offensive language, pictures, or symbols ◆ No negative or rude language (BE NICE). ◆ No Double-Entendre's (double meanings) ◆ You may use YOUR name. If you want to use a nickname it must be approved (a boyfriend's or girlfriend's name is NOT allowed). ◆ Prohibited items will be painted over at the discretion of the Administration.
Disciplinary action may be taken and you may forfeit your privilege to park on campus.


➔ Step 3: Priming
Once you have selected and paid for your spot, you may report to campus on August 13th or 14th between 8:00 am-12:00 pm to cover the previous design & prime your spot so you are ready to paint your design on Saturday, August 15th!


➔ Step 4: Painting Day!!
○ SATURDAY, AUGUST 15TH 8:30-4:00pm
■ Check-in with a PRHS administrator/ faculty member. You must have your paint approved at this time.
■ What you need:
○ Paint & supplies
○ Copy of your approved design-You MUST follow this design EXACTLY


SUGGESTED MATERIALS, TIPS, AND HINTS:
❖ Water-based exterior paint ❖ Water-based primer paint/base coat for concrete ❖ Chalk to sketch design ❖ Paint brushes and/or rollers ❖ Paint pans or plastic containers for water, paint and brushes ❖ Blue painters tape (4 inches wide)❖ Stencil ❖ Plastic drop cloth to put under paint cans ❖ Broom to sweep spot before painting ❖ Old cloths or paper towels ❖ A bag for your trash ❖ Sunshade, sunscreen, umbrellas, sunglasses, hats, canopy tent ❖ Water, Snacks ❖ Lawn chairs, stool, a towel to sit on ❖ People to help


BE CREATIVE! MAKE IT MEMORABLE! HAVE FUN!